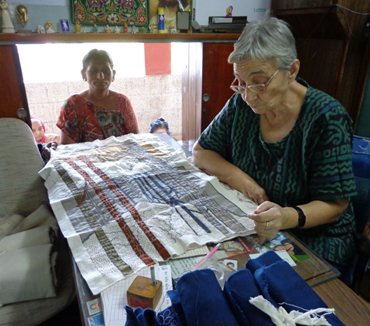 About St. Mary's Mahila Shikshan Kendra
St Mary's Mahila Shikshan Kendra is a women's handicraft organization run by the Dominican Sisters in Gomtipur, Ahmedabad. This area of Ahmedabad, once known for its textile mills, suffered much unemployment since global competition closed the mills in the 1980s. Artisans of St. Mary's create mirrorwork embroidery in the tradition of the Kathiawadis.
St. Mary's Mahila Shikshan Kendra aims to give maximum employment at just wages to the women of Gomtipur belonging to different social, cultural and religious groups. One of the results of working together as a group in the Centre is a natural bonding of the women as one body.
St. Mary's Mahila Shikshan Kendra concentrates mainly only on Hand Embroidery in cotton. Using their indigenous craftsmanship, these women immigrants produce high quality mirror work embroidery in traditional designs and colours. Our articles like cushion covers, letter boxes, bags, purses, bed spreads, table cloths and other Christmas decorations as well as "Articles to wear" have traveled all over the world.